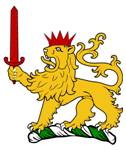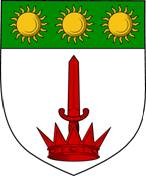 The person to whom granted: Joseph A. Donohoe III when it proved impossible to verify the arms described by O'Hart (shown below).
Current person entitled: Joseph A. Donohoe V of San Francisco
The blazon: Argent a sword erect issuant from an antique crown gules, on a chief vert three suns in splendour or.
The suns here are traditionally without faces.
The crest: On a wreath argent and vert a lion passant or, on the head an antique crown and in the dexter paw a sword erect gules, mantled vert doubled argent.
The motto: Esse quam videre or To be, rather than to seem to be.
Where and when first registered: Heraldry Office, Dublin Castle on 20 May 1976 by Gerard Slevin, Chief Herald of Ireland
Research carried out: Joseph A. Donohoe I was a prominent Irish American banker, who was a pillar of the establishment in early San Francisco, and whose parents had emigrated from County Cavan before 1822.  In 1860 his Donohoe Kelly and Co., donated $1000 to the Archbishop of San Francisco who appealed for donations to clear the cathedral debts; the committee of fifteen included Peter Donahue and Joseph A. Donohoe.

Joseph A Donohoe V of San Francisco runs the Donohoe Clan Society and the Breifne Clans DNA Project and is a member of our society.
Left is an illustration of the Donohoe Clan badge, which is blazoned Argent a sword erect issuant from an antique crown gules encircled by a barrulet gemelé vert'.
Ongoing questions: None
Sources and acknowledgements:
Donohoe, Joseph A V
Arms were shown in John O'Hart's 'Irish Pedigrees' (1888) under the name O'Donohoe of San Francisco, California.  These are shown here for historical interest.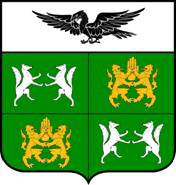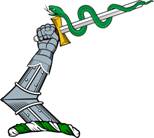 The shield                 The crest (1)                 The crest (2)
The blazon: Quarterly – 1st and 4th vert, two foxes combatant ar. in chief of the second an eagle volant sa.; 2nd and 3rd vert. two lions combatant supporting a dexter hand or.
The crest: 1st, arm in armour holding sword entwined with serpent all ppr; 2nd, out of a ducal coronet an oak tree, a snake entwined round trunk all ppr.
Research carried out: A common theme in the 19th century was to attach ones family to an historic line, in this case the 'ancient Lords of Glenflesk'.  No evidence of the registration of these arms has been found.
Sources and acknowledgements:
Donohoe, Joseph A. V
O'Hart, John – Irish Pedigrees (1888)