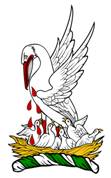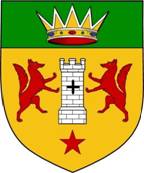 The person to whom granted: Originally to Henry Michael Dunphy, then confirmed with modification to Thomas Austin Dunphy.
Current person entitled: Thomas Austin Dunphy
The blazon: Or, a tower argent masoned argent, supported by two foxes rampant proper.  In base a mullet gules.  On a chief vert and antique Irish crown on the first.
The crest: A pelican in her piety ppr.
The motto: Nil virtus generosa timet or Generous strength (or virtue) fears nothing
Where and when first registered: Originally Dublin in 1869 as Vert, two foxes combatant ar., in base a mullet or, on a chief of the last an antique Irish crown per Burke (1884).  These arms were confirmed with the added 'tower argent masoned argent' to Thomas Austin Dunphy by the Chief Herald of Ireland in 1979.
Research carried out: Thomas Austin Dunphy possesses a bookplate from this period with the name T.O.Dunphy under it.   This is thought to be Thomas Dunphy of Mount Sion, Kilkenny (1876).  It is blazoned as shown above and the crest and motto are those of The O'Donoghue of the Glens.
Ongoing questions: Renew contact with Mr Dunphy
Sources and acknowledgements:
Burke's The General Armoury (1884)
Dunphy, Thomas Austin – whose permission was sought for the inclusion of these arms in 'O'Donoghue People and Places' in 1998.