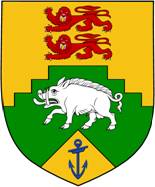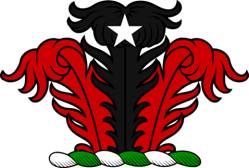 The person to whom granted:  This is not known.  See research.
Current person entitled: Not known
The blazon: (1) Coupée-pignonnée de trois degrés:au 1 d'or deux lions léopardes de gu.; au 2 de sin.a un sanglier pass. d'arg., defendu d'or.  A une pointe entée aux armes de Clodius qui sont d'arg.a une ancre d'azur.
(2) Coupé-pignonné de trois degrés au 1 d'or à deux lions léopardés de gueules au 2 de sinople à un sanglier passant d'argent défendu d'or A une pointe entée aux armes de Claudius qui sont d'argent à une ancre d'azur
Translated: Divided-turreted into three stages: the first of gold, two red lions; the second of green, a silver wild boar walking shielded in gold.  At a curved point engrafted to the arms of Clodius which are of gold at a blue anchor.
The lion passant guardant was considered a lion behaving like a leopard and was indistinguishable from the leopard by early heralds, who never drew it spotted and who sometimes termed it as leopardé .
Á une pointe entée or enté in point: A term sometimes encountered in early works to express a point in point arrondie or with curved sides. This was a method of marshalling sometimes found in Continental heraldry, such as enté in point, gu. a horse courant ar being the arms for Lower Saxony borne on the escutcheon of the British Royal Arms of George I.
The crest: (1) trois pl. d'aut., une de sa.(ch.(chargé) d'une etoile d'arg.) entre deux de gu.
(2) trois plumes d'autruche une de sable (ch d'une étoile d'argent) entre deux de gueules (gules).
Translated: Three ostrich feathers, one black (charged with a silver star) between two of red.
The mantling: (1) Dextre d'or et de gu., a sen.d'arg. et de sin.
(2) à dextre d'or et de gueules à senestre d'argent et de sinople
Translated: To the right of gold and red, to the left of silver and green.
The helmet: Cq. Cour = Casque (helmet) couronné (crowned)
The motto: Not known
Where and when first registered: Hanover in 1759
Research carried out: In 1995 I commissioned a researcher in Germany.  He reported in January 1996.
There was a von Castlemur family in Vienna of whom a female member married a Moller in Diepholz, Lower Saxony in 1783.  Their son was the most famous person born in Diepholz, building a castle and the Darmstadt Opera House and rebuilding Cologne Cathedral.
Von Castelmur was an old noble family, originating in one of the Swiss valleys with slopes towards the Po plain.  The knights of Castelmur were traced back to the 23rd century.  They had come from Sils in the upper Engadin, in the vicinity of the sources of the river Inn.  The town Sils consists of the parts Baseglia and Maria.  In both valleys there was a branch of the family. Moller's ancestors were themselves from Maria.
There was a Clodius cigar factory in Lohne near Diepholz.  The cigarmaster Friedrich August Clodius came from Bremen.  He died in Lohne in 1868.  Karl Clodius from Bremen who first worked in Lohne as a cigarmaster established himself as a cigar manufacturer in Vechta the neighbouring district capital.
My research so far was unable to establish a reason for the O'Donogh name, but probably Wild geese from County Cork.  The wild boar on the arms may mean they were MacDonogh MacCarthys of County Cork who, however, were originally O'Donoghues in my opinion.
In my article 'O'Donoghue tribal history in Cork and Kerry' in January 2003 journal,  I wrote 'Little is known of the MacDonogh MacCarthys after the seventeenth century – their lands were lost when the family got into financial difficulties.  Smith's History of Cork records that at the battle of Knockniclashy in 1652 against Cromwell's forces, 'MacDonogh, Lord of Duhallow, was slain as he charged at the head of a squadron of horse'.  In 1690 a Colonel Charles MacCarthy alias MacDonogh was Governor of Cork and Deputy Lieutenant of the county.  He is said to have offered to put one thousand men in the field for the Jacobite king, so he obviously maintained a power base. However it does seem that over time the MacDonogh name faded with just MacCarthy being used. In the end the O'Donoghue name has had more staying power!'
The MacDonogh name, and a different sept, is found these days in Connacht for whom the two lions and a boar are also used.  Donaghy is an Ulster variant of this name.
Alicia St Leger's in 'MacCarthy People and Places' says ' Castlemore was one of the most important MacCarthy castles and occupied by the MacCarthys themselves until the late sixteenth century and thereafter by their soldiers, the MacSwineys.  The MacCarthys lost the castle during the Cromwellian wars and did not regain it.  It was occupied until the mid eighteenth century.'
Castlemore is in Cork in Muskerry south of the River Lee (east of Crookstown close to the River Bandon).  Butler's 'Gleanings from Irish History' has references to it as follows:-  Cal. State Papers, 1586, p.109, mentions an order made between Cormac Mac Dermod, Callaghan Mac Teige, and Dame Johan Butler (widow of Cormac Mac Teige) in July 1584.  Callaghan also got Castlemore for life.  Afterwards it went to Cormac, son of Cormac Mac Teige.  Cormac's son, Cormac or Charles, forfeited Castlemore in 1641.

There is another Castlemore (with a rath) near Tullow in Co.Carlow.
The only other crest of ostrich feathers found in MacLysaght or on the NLI register of exemplications is for the O'Brennans of Connacht which suggests it may not be a very Irish charge.  The MacDonagh crest is shown at left, which does not help with our dilemna.
The other issue is the significance of 'dit'.  A French Canadian site explains it thus
In France, nicknames were added to surnames to distinguish between families with similar names living in the same geographical area. When immigrants coming from France settled in New France, this custom continued. Some immigrants, mostly soldiers, already had an alias or a "dit name" when they arrived while others acquired a "dit name" after they settled in New France.
"Dit names" were created by taking a person's family name, adding a nickname that described one of the individual's unique characteristics, and connecting the two with the word "dit," for example, Miville dit Deschênes.
These nicknames were based on the following:
physical characteristics (Le Fort, Le Roux);
moral characteristics (Le Bon, Le Sage);
trades (Le Boucher);
places of origin, including country, province, city, town, village (le Picard, Le Normand);
places of residence (Du Val, Du Puis);
first names of ancestors (Deblois dit Grégoire, Fasche dit Robert);
actions (Ladébauche, Ladéroute).
Until around the 1850s, both surnames and "dit names" were used in records. After that time, only one of the two names was used.
Ongoing questions: Unless we can track down this particular family this will remain unresolved.  Is Castlemore referring to the Von (de) Castlemur family or the castle in Cork?  If they were MacDonough MacCarthys of County Cork, why did they use MacDonough of Connacht charges?  This is a very confusing story.
Sources and acknowledgements:
Butler, W.T – Gleanings from Irish History
Liebezeit, Falk
MacLysaght, Edward – Irish Families
(1)J-B Rietstap  – V & HV Rolland's Armorial General
St Leger, Alicia – MacCarthy People and Places
(2) http://www.euraldic.com/aarm_od.html
http://www.dictionaryofheraldry.com/dictionary-P.html