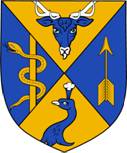 The person to whom granted:  Robert Finbarr, O'Donoghue of Tinhalla, Montenotte, Cork.  Montenotte is a suburb of Cork City.
Current person entitled: Not known
The blazon: Per saltire (a form of cross shaped like the letter "X") azure and or, in chief a stag's head caboshed (applied to the head of any beast looking right forward, or full faced, with nothing of the neck visible), in base a peacock's head erased (forcibly torn from the body; a head, limb or other object, has its severed parts jagged), dexter a staff of Aesculapius, sinister a broad arrow point upwards, all counter changed (applied to a field divided per bend or other ordinary, in which the charges in each section are of  the colour or metal of the field of the other section).
The crest: A stag's head caboshed or, between the attires (the horns of a buck) a saltire gules.
The motto: Numquam non paratus or Never unprepared
Where and when first registered: Genealogical Office, Dublin, 1961.
Research carried out: In October 1994 Tim Cadogan of the Cork County Library consulted C.J.F.McCarthy, local historian, re this coat of arms.  He stated that "The subject of your query was then living at 'Tinahely', 4 Montenotte Rd, Cork; now residing in Crosshaven area.  He was a most distinguished obstetrician and required arms to enter the elitist Roman Catholic Order of Malta in 1960.  An eminent man".  He gave names of possible family in Crosshaven area from electoral register.
In January 1995 I received a letter from Robert F. O'Donoghue, Crosshaven, Co. Cork in response to letter to June O'Donoghue.  He said that he was in process of delving into O'Donoghue history in South Carlow.  He claimed no connection with Kerry, Lough Lein.
Ongoing questions: Renew contact with Mr O'Donoghue
Sources and acknowledgements:
MacCarthy, C.J.F
O'Donoghue, Robert Finbarr
The Armorial Who is Who 1963-5,     Editor in Chief: Lt. Colonel Gayre of Gayre & Nigg