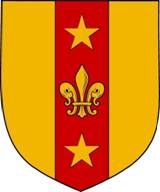 The person to whom granted: Probably to Juan Ó Donojú (1762-1821), Captain General and last Viceroy of Mexico
Current person entitled: Not known.  He was one of three brothers but no work has been done on the line into future generations.
The blazon: (1) D'or au pal de gu., ch. d'une fleur-de-lis d'or et de deux étoiles du même , 1 en chef et 1 en p.
(2) D'or au pal de gueules ch d'une fleur-de-lis d'or et de deux étoiles du même 1 en chef et 1 en pointe.
Translated: Of gold with a pale (band placed vertically in the middle and occupying one third of a shield) of red, charged with a fleur-de-lis and of two stars of the same.  One in the chief and one in the base
Pointe: A charge which consists of the width of a bar parted off from the lower part of the shield by a line horizontally drawn on it may be described as a cutting off of the base of the shield , which may be indented , embattled , dancette , etc. through all the lines of partition . It is also termed base , baste , point in base or base-point but, as it can be placed in parts of the shield other than the base , it is better termed a plain point.
The crest: Not known
The motto: Not known
Where and when first registered: Spain, originally from Ireland
Research carried out: Juan Dumphi O Donojú was born in Seville in 1762 and became a Spanish knight of some renown.  His parents were Richard Dunphy and Alice O'Ryan of Callan in the county of Kilkenny.  Some records show them as natives of Glenflesk, but the use of the name Dunphy places their origins more probably in the Kilkenny or Tipperary area.  Spanish records suggest that the O Donojú name was added in Spain.
Juan O Donojú followed a military career.  He rose to the rank of Lieutenant General in the army and held high official positions in Spain including that of Minister of War (1813).  History has recognised him primarily for the part he played in the independence of Mexico from Spain.
One of Juan O Donojú's sisters, Mariana, was the first wife of James Wiseman of Seville and they had three daughters.  After Mariana died he married again, and one of his sons from that marriage became Cardinal Archbishop of Westminster in the middle of the nineteenth century.
Thomas O Donojú (fl.1820) was first Inspector General of infantry, then political chief in Murcia and later political chief and Captain General in Cadiz.  The Duke of Wellington considered him the best soldier in Spain.  Was probably Juan O Donojú's brother.
Ongoing questions:  Are there living members of this family?  What was their crest and motto?
Sources and acknowledgements:
(1)J-B Rietstap  – V & HV Rolland's Armorial General
(2) http://www.euraldic.com/aarm_od.html
http://www.dictionaryofheraldry.com/Helm.htm