(also known as of Lough Léin, the Lakes and Ross)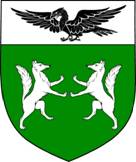 The person to whom granted: Mór means 'great' and this line trace their ancestry to Amhlaoibh Ó Donnchadha, king of the Eoghanacht Loch Lein and West Munster in the 12th century.  It is not known to which specific chief of this ancient sept (clan) these arms were originally granted.
Current person entitled: This line is said to have died out in the 16th century, but there is evidence that this was not the case.
If anyone is entitled today, it would be Tighe O'Donoghue (see 'Captain Right – The Rightboy movement and the Tithe Wars' in the January 2004 journal), but in the absence of a complete paper trail for his claim it has not been proved to the satisfaction of a herald.
The blazon:
1884: Vert, two foxes rampant ar. on a chief of the last an eagle volant sa.
1887: Vert two foxes ramp. combatant ar., on a chief of the last an eagle Volant sa.
Translated: Green field, two silver rampant foxes, facing each other; on a silver upper third, a black eagle flying.
The crest: An arm in armour embowed holding a sword, the blade entwined with a serpent all ppr (= proper: applicable to all animals, trees, vegetables etc., when borne of their natural colour)
The motto: Generally seen as Numquam non paratus or Never Unprepared.
Where and when first registered:  Not known
Research carried out: The sources referenced below.
Ongoing questions: Did Burke consider that there were surviving members of this line which justified the inclusion of this line in 1884?  When did Burke drop references to the Mór line?
Sources and acknowledgements:
Burke, Sir Bernard (Ulster King of Arms) – The General Armoury (1884)
O'Donoghue, Tighe of Glenflesk, Killarney, County Kerry
O'Hart, John – Irish Pedigrees (1887)