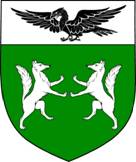 The shield               The crest (1)    The crest (2)
The person to whom granted: It is not known to which specific chief of this ancient sept (clan) these arms were originally granted.  Genetic analysis suggests this surviving line was from the O'Donoghues of Cashel.
Current person entitled: Geoffrey Paul Vincent, The O'Donoghue of the Glens.  These arms with crest (2) have become the most familiar representation for Kerry O'Donoghues, reproduced in many media.
The blazon:
1884: Vert, two foxes rampant ar. on a chief of the last an eagle volant sa.
1887: Vert two foxes ramp. combatant ar., on a chief of the last an eagle volant sa.
1958 &1976: Vert, two foxes combatant arg. on a chief of the second an eagle volant sa.
Translated: Green field, two silver foxes facing each other rearing up fighting; on a silver upper third, a black eagle flying.
Kennedy shows this shield with crest (2) under name the O'Donoughoo,.
The crests:
(1)A pelican in her piety ppr.  This bird is always represented with her wings addorsed (placed back to back), neck embowed, and pecking her breast, from which issues drops of blood; when she is feeding her young in this manner she is blazoned in her piety.  Burke (1884) describes this crest as being registered in the Ulster Office
(2) An arm in armour embowed holding a sword, the blade entwined with a serpent all ppr (= proper: applicable to all animals, trees, vegetables etc., when borne of their natural colour. (Burke 1958 & 1976)
In Wilkinson (Plate 44) under the name D.O'Donoghue (almost certainly Daniel of the Glens, the MP, 1831-89), shows the shield and crest (1) above.  This crest has also been used on family memorial stones at Muckross Abbey and elsewhere.
It is common practice for one family to use two crests.
The motto: Generally seen as Numquam non paratus or Never Unprepared.  In Wilkinson the motto Nil virtus generosa timet or Generous strength (or virtue) fears nothing is shown, however.  This motto is also found at Muckross Abbey (the historical burying place of the O'Donoghues) as Virtus generosa nihil timet.
Where and when first registered:  In O'Kief, Basil Morgan O'Connell writes 'Arms in use before the Ulster Office' in relation to the arms of the Glens.  Ulster Office was established in 1552 by King Edward VI to replace the post of Ireland King of Arms, which had lapsed in 1487.    In the case of the O'Connell arms they were granted by Ulster's Office September 30, 1667 and confirmed in 1690 & 1872.
In 1944 the Chief Herald of Ireland, at the Genealogical Office in Dublin, confirmed the name of The O'Donoghue of the Glens on Geoffrey's father and thus the arms.  The Chief Herald's Office does not have a record of all the arms granted by it and its predecessors
Research carried out: The sources referenced below.
Ongoing questions: None
Sources and acknowledgements:
Burke's The General Armoury (1884)
Burke's Landed Gentry of Ireland (1958)
Burke's Irish Family Records (1976)
Casey, Albert & Dowling,Thomas  – O'Kief, Coshe Mang, Slieve Lougher, and Upper Blackwater in Ireland, Knocknagree Historical Fund, 1952-71
Kennedy's Book of Irish Arms (undated but almost certainly 19th century)
The O'Donoghue of the Glens
Wilkinson Collection – Irish Armorial Book Plates (undated as above)