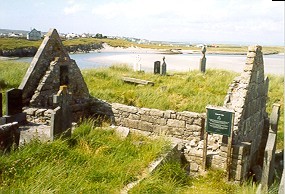 Eoghanacht Ninussa of County Clare
Teaghlach Einne
St Enda's monastery on Inis Mór
St Enda, who founded a monastery on Inis Mór in the fifth century, was supported in this endeavour by his brother-in-law, Aonghus mac Nad Fraoich, king of Munster, from whom the Eoghanacht Chaisil derived their heritage. The king sent troops, possibly including O'Donoghues, to overcome the resistance of the local Fir Bolg to the Christian cross. These soldiers are said to have formed the nucleus of this tribe. There is no clear indication of O'Donoghue being associated with the monastery, however.